Are you living to your full potential?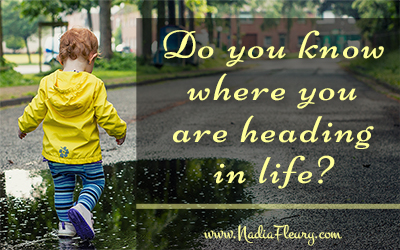 I once watched a child playing in a puddle of water. He was amazed by how the water moves depending on the weight of his footsteps. He jumps in the middle and mud splatters everywhere, including into his laughing mouth. He spits it out and continues playing in that puddle.
This child's innocence makes for a beautiful scene. He is certainly living in the moment.
What if this child is you? 
For some times, you haven't paid attention to where you are going.  Yes, you live moment to moment, without thinking about your future.
What if your office desk was like the puddle. Something to do for the time being.

Do You Know Where You Are Headed In Life?
It's important to live in the moment only if the moment is supporting your goals.
Going back to the story, what if the child is playing by himself, not because he wants to, but because something happened to him?
What if he chose to isolate himself because someone hurt his feelings, or he's afraid, or because he's being neglected?
What if he couldn't board the bus, or he arrived too late and missed it?
Regardless of why he was there, that boy was waiting for something to happen.
Are You Waiting For Something To Happen?
Sometimes, we don't act because we feel we are not ready. We are missing something, such as the correct college degree, the right connections, the know-how, or we are not in the right environment.
It is true that your willpower is not as strong as your environment. However, it is your responsibility to do something about it.
 How are you truly feeling inside?
Rested or do you lack energy?

Focused with a sense of direction or are you drifting away?

Attractive, fulfilled, happy, or is there something missing in your life?
What holds us back the most is not knowing what we are looking for. We get easily distracted by bright, shiny objects.
You've settled into your routine for so long, wishing tomorrow will be a better day and yet it never comes.

What if you could wake up each day saying:
• I am calm and happy. I see the beauty in everything I do.
• I experience new activities. I enjoy my life.
• I have time and money to travel wherever I desire to go.
• I live in a positive, uplifting, loving relationship.
• I am amorous and sexy. I live the life of my dream.
• I love and take care of myself. I am emotionally fulfilled.
Are you at a crossroads?
Do you feel a deeper calling but you're not sure what it is?
 IF YOU ARE COMMITTED TO INVESTING IN YOURSELF,
MY VIP LIFE STRATEGY WILL HELP YOU.
Please note that I lead an ADVANCED VIP Life Strategy and a VIP Transformational day.  
This is NOT for you if you:
Won't take responsibility for your actions.

Blame others for your lack of success.

Unwilling to do the work.

Want a quick-fix without putting forth any effort.

Want someone to do it for you.

Resist change.

Cannot fully commit to your growth.
VIP LIFE STRATEGY
ONE-HOUR ORIENTATION CALL

THREE ONE-HOUR STRATEGY CALLS

ASSESS ONE AREA OF YOUR LIFE TO IMPROVE UPON

IDENTIFY WHERE YOU ARE NOW

IDENTIFY WHERE YOU DESIRE TO BE

TWO FOLLOW-UP EMAILS PER CALL — THIS INCLUDES MORE DISCOVERY INSIGHTS OR SUGGESTED HOMEWORK

RECORDED PHONE CALLS FOR FUTURE REFERENCE
VIP TRANSFORMATIONAL DAY
ONE-HOUR ORIENTATION CALL PRIOR TO MEETING

EIGHT HOURS WITH NADIA (INCLUDING MEAL)

PROGRAM CUSTOMIZED TO YOUR NEEDS

IDENTIFY WHERE YOU ARE NOW

IDENTIFY WHERE YOU DESIRE TO BE

IDENTIFY HABITS THAT DO NOT SERVE YOU

ADDRESS THE ROOT CAUSE OF YOUR CHALLENGES

IDENTIFY YOUR ZONE OF GENIUS

UNLIMITED EMAIL ACCESS FOR THREE MONTHS

ACCESS TO MY RESOURCES UPON REQUEST

SAFE, WARM AND PRIVATE ATMOSPHERE

DISCUSSION CAN BE RECORDED IF DESIRED
If working one-on-one with Nadia resonates with you, and still have questions about which program is best, just fill out this form below and we will contact you within 48 hours.